Saffron Tagliarini With Snails, Sorrel, Tomato, Zucchini
Thorsten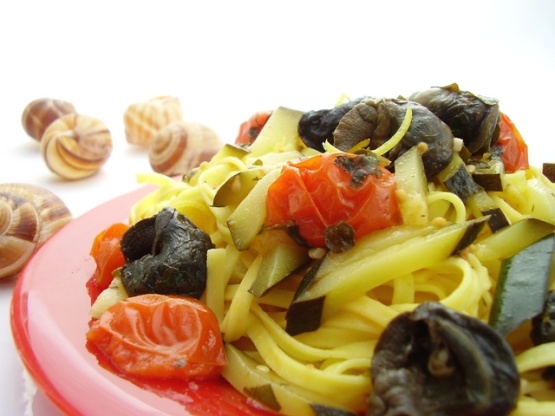 Farm -raised snails are a burgeoning industry in New South Wales, and this is one way they are served at Lolli Redini, Simonn Hawke's restaurant in Orange. You can buy the fresh pasta--though it's quite simple to make--and cut considerable time off prep. You can also substitute fresh baby spinach for the sorrel, which is hard to find outside of farmers' markets.

Great recipe.I think the combination of home made saffron pasta, snails and a more untypical veggie (here sorrel or baby spinach) makes this dish. To make pasta is quite easy, but it takes some time to make them. But is quite a difference to dry commercial ones. If you wouldn't like to make them try to get fresh pasta and add the saffron to the cooking water to flavor them slightly. The sauce is very easy to make and brings out the flavor so well. The use of cherry tomatoes is great, because they are sweeter and are going well together with the zucchini. The canned grapevine snails (which I have used) have a slight nutty flavor. This was supported by the fresh notes of the lemon zests. At first sight this recipe might be an untypical combination of ingredients and flavors, but they work so well. And that makes a great recipe. Thanks for sharing, Kate.
For the pasta:
Combine ingredients in food processor or large mixer until dough ball forms.
Rest mixed ingredients for half an hour to one hour in the fridge.
Roll out through pasta machine to make thin, silky sheets then put through the machine at a tagliarini setting (or roll out by hand into a thin sheet and then cut noodles using a pizza cutter).
Hang to dry over a broom handle; while still soft, curl into loose nests.
For the sauce:.
Clean and slice zucchini into strips.
Halve the cherry tomatoes.
Sauté strips of zucchini in olive oil with cherry tomatoes and crushed garlic over medium heat until vegetables soften.
Add the snails and sorrel and season to taste, adding lemon zest and cooking till sorrel is softened and snails are heated through.
Bring large pot of salted water to boil and add the pasta and cook for one to two minutes (or until al dente--if you are using freshly pasta, it will cook very quickly). Drain and toss with the snails and sorrel sauce.
Serve immediately.