KateL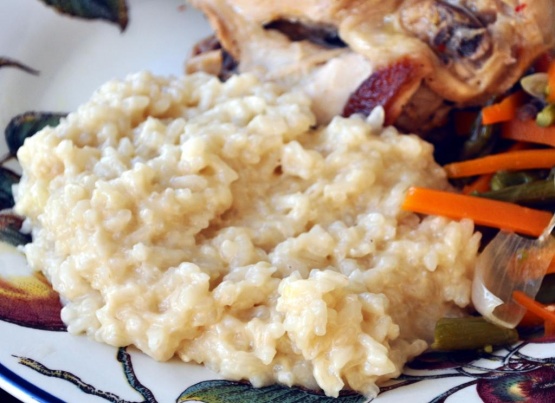 My mom made this risotto for us fairly frequently as we loved it so much. I got this recipe from "Italian Cooking" by Capalbo et al. I was forced to find an actual recipe since my mom doesn't have her recipes on paper (you know how it is :)) and this one comes very close. Yes, it's a bit time consuming and requires a lot of stirring, but you will be well-rewarded in the end for your effort! :D In Italy, this risotto is classically served with osso bucco, but it's wonderful even on its own!

Have now twice made this a meal by first frying some mushrooms and 2 x chorizo sausage (both ingredients diced rather small). Made the risotto as per instructions, apart from adding about a half a cup of white wine to start and let it boil down before startng to add the stock. Once it was ready, I stirred through the butter, mushrooms, chorizo and parmesan. Very moorish. Great recipe Mel
5

cups beef stock or 5 cups chicken stock

1

pinch saffron (1 sachet)

6

tablespoons butter

1

onion, finely chopped
1 1⁄2 cups arborio rice (if you can find it, carnaroli makes the *best* risotto)

1

cup grated parmesan cheese (not the stuff from the can!)
salt and pepper, to taste
Bring the stock to a boil, then reduce to a low simmer.
Ladle a little stock into a small bowl.
Add the saffron threads or powder and leave to infuse.
Melt 4 tbsp of the butter in a large saucepan until foaming.
Add the onion and cook gently for about 3 minutes, stirring frequently, until softened.
Add the rice.
Stir until grains start to swell and burst, then add a few ladlefuls of the stock, with the saffron liquid, and salt and pepper to taste.
Stir over low heat until the stock is absorbed.
Add the remaining stock, a few ladlefuls at a time, allowing the rice to absorb all of the liquid before adding more, and stirring constantly.
After 20-25 minutes, the rice should be al dente and the risotto golden yellow, moist and creamy.
Gently stir in about two-thirds of the parmesan and the rest of the butter.
Heat through until the butter has melted, then taste for seasoning.
Transfer the risotto to a warmed serving bowl or platter and serve immediately, with the remaining parmesan sprinkled on top.
Enjoy!