IngridH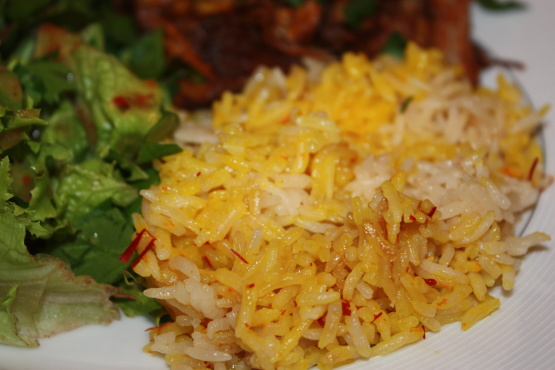 Saffron a beautiful herb is used in many ethnic cooking best paired with rice. This rice is fluffy and fragrant best of all EASY!

Yum! I love saffron rice, and this was a wonderful version. I cut the recipe to 1 serving, and made it in my rice cooker. First, I added the cleaned rice, broth, cloves, cardamom, and salt to the cooker, and let it go for the normal cycle. When it switched to keep warm, I added the saffron and water. It urned out beautifully! Since I used stock instead of water, it was a little brown instead of pure white contrasting the golden yellow, but still very pretty. I love seeing the red threads throughout the finished dish. This smelled so good while cooking that I could hardly wait for the cycle to finish. Made for PAC Spring 2011
clean the rice, then strain.
bring the 4 cups stock to a boil with cardamom,cloves and salt.
add rice bring to another boil, lower the hear and cover. cook for 15-20Min's until rice has become fluffy.
before the water has completely evaporated at the end processes of cooking the ricemix saffron with 3tablespoon hot water.
drizzle saffron water on the rice
turn the heat off leave covered for 15 mins so the moisture can redistribute and the rice will remain fluffy. place on serving tray it will be white rice with some yellow rice. Enjoy!