Um Safia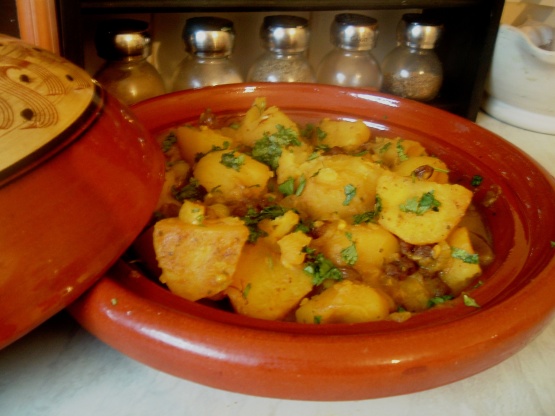 A tagine is a Moroccan casserole dish, if you don't have one a normal casserole dish works just as well.

Made for the Great Tagine Treasure Hunt!!! I really enjoyed this tagine. I made no alterations to the ingredients BUT after reading the previous comments, I decided to cook this in a traditional tagine in the traditional way. This means that I didn't pre-boil the potatoes but instead I put everything in the tagine together (except coriander /cilantro & parsely) I cooked it on a medium heat for around 1hour - thsi way the flavours permeated the potatoes instead of just being in the sauce. This made the tagine really delicious & I will be making it again for definite. Thanks PinkCherryBlossom for this lovely recipe!
Cook the potatoes in boiling salted water for 8 - 10 minutes Drain and set aside.
Heat oil in a casserole dish suitable for the stovetop and fry onions for 4 minutes Add garlic, spices, raisins and half the stock.
Bring to boil and simmer for 5 minutes the stock should have reduced by about 50%.
Add potatoes and remaining stock. Simmer for another 10 minutes until everything has warmed through and the sauce has thickened.
Season if desired and stir in the fresh herbs. Serve with cous cous.