JustJanS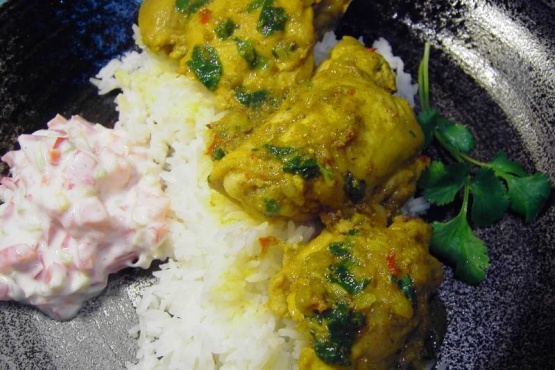 This yummy curry is one of my husbands specialities.

THIS...IS......OUT OF THIS WORLD!!!!! Have only two people here, but I knew we'd love it so i made the whole amount so we'd have leftovers. This dish filled my apartment with heavenly scents.. we couldnt wait to dig in!!! The chicken takes on a beautiful color and magnificent flavor!! The times were very accurate... and the ingredients were just perfect. Thanks for this wonderful recipe Jan. This is a keeper!!! I will make it OVER and Over and over again! :-)
Toast the saffron strands in a dry pan over a medium heat for about 1 minute taking care not to burn them.
Cool, and then crush them with the back of a spoon.
Dissolve them in 1 tablespoon of very hot water.
Heat the ghee (or whatever you use), and gently fry the onion, garlic, ginger and chillis until the onion is soft and golden.
Add garlic.
Add the dissolved saffron to the pan with the cardomon, then add the chicken.
Turn the chicken pieces in the mix, coating well.
Add the salt, cover and cook for 25 minutes until the chicken is tender.
Uncover the pan and continue cooking, turning often until the liquid is almost gone.