adamwa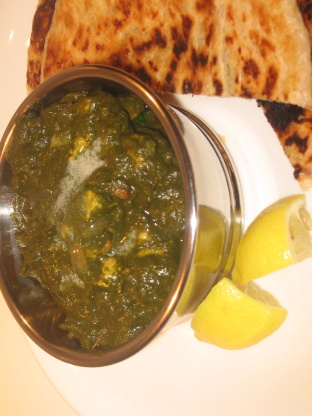 I searched high and low for this recipe before coming across it on askpalakkad.com. It was so good I must share it with you to save the hassle of trying to find it yourself! This truly is delicious!! Add a few cardamom seeds to the rice for a truly authentic Indian taste! Note: This is quite spicy. If you do not like spicy food, adjust the amount of cayenne pepper (e.g. 1/4 tsp cayenne).

Great choices of spices/ingredients for a very tasty Saag! As a huge fan of saag (saagwala), I have several recipes for chicken saag, and like some of the other raters of this particular recipe, like it very spicey. That said, I doubled the garlic, ginger, and spices. I also prefer a saag that produces more "gravy," thus added about 1/2 cup yogurt plus 1/2 cup chicken broth (at the end), and heated it through. The flavor of this spice combination is very close to what I have also been looking for. My DH also loved it. Added about 1/2 cup cooked sliced mushrooms to the mix. Thank you for sharing a recipe for saag that truly provides the "melded" spices that taste like those we've had in the best East Indian restaurants.
Fry the chicken in 4 tbs oil for around 3-4 minutes until lightly browned and set aside.
Put the spinach in a pot, add 1/4C water.
Bring to the boil and remove from heat.
When cool, grind very well (almost to a paste) in blender and set aside.
Heat the remaining 3 tbs oil in a pan and add ginger, garlic and onions.
Fry until lightly brown.
Add tomatoes, salt, cayenne pepper, ground coriander, turmeric, cloves and cardamom.
Sprinkle with 1 tbs water.
Cook for 10 minutes on a low heat.
Add chicken and milk to the pan.
Simmer until the chicken is tender (about 10 minutes).
Add spinach and garam masala to the pan.
Cook until spinach starts sticking to the pan (about 15 minutes).
Remove from heat, add butter and cover until ready to serve with rice.