-Sylvie-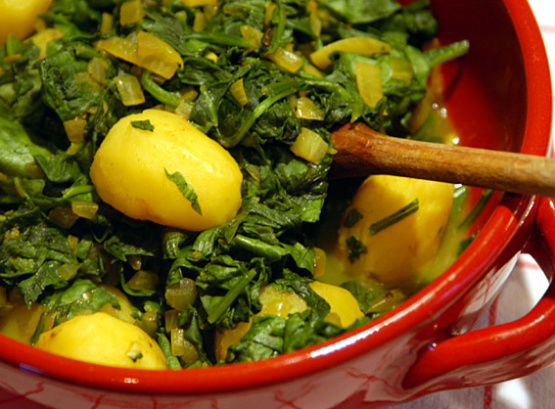 A recipe that came with my weekly vegetable delivery. I am reposting it here as it was first printed, but I prefer to parboil the potatoes before adding them to the curry. Great with rice and dahl. I often serve it with a paneer curry.

Great recipe. I found I had to double the spices and add curry powder to get it to my taste. I added in about 6 tablespoons of yogurt when it had about 5 mins of cooking time left. Also added in fresh corriander at the end. Thanks for the recipe!
Fry the cumin seeds in a heavy bottomed pan in a bit of oil and butter until just starting to brown.
Add the onion and fry until it too starts to brown.
Add the potato, garlic, turmeric, ginger and garam masala and fry until the potato starts to soften.
Unless you are using a non-stick pan, you may need to add water and cover to keep the potato from sticking and to help it cook. The first time I did this 1/2 cup at a time and it took about 20-30 minutes but I now prefer to parboil the potatoes, which means you add less water and it only takes about 10 minutes to finish off from this point.
Add the spinach or chard and cook until it collapses over the potato.
Salt to taste.