Bec V.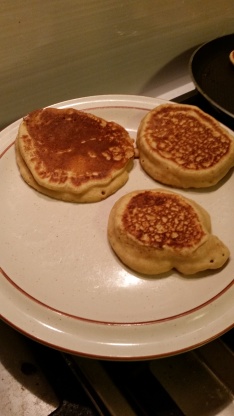 Enjoy with butter and maple syrup. The rye flour gives these pancakes a great unique flavor.

These were great! The batter is very thick, but the pancakes turned out nice and fluffy. The rye flour gave them a great flavor. My kids liked them too.
In a large mixing bowl, sift together the two flours with the baking powder and salt.
In a separate bowl, stir together milk, egg and shortening until well combined.
Add wet ingredients to dry ingredients and stir until well mixed.
Heat a skillet or large frying pan to medium-high heat. Spray with a generous coating of cooking spray.
Dollop batter in 1/3 cup portions to make pancakes. Cook until bubbles appear on uncooked side and edges start to look dry. Flip and cook other side until golden brown.