Rye Oat Muffins With Cranberries
karen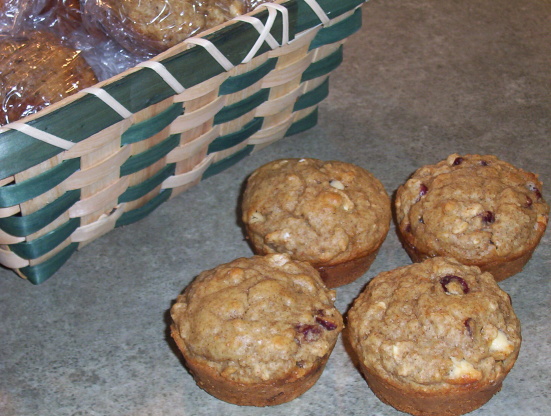 These muffins have a wonderful nutty flavour and nice crumb texture. For a healthier version omit the chocolate chips. This recipe is a work in progress as I want to experiment with other add-ins like blueberries and various nuts. One note of caution I cannot be certain of oven temp or times because my own oven's temps are a bit off, the best I can offer is not too high a heat and a longer baking time than ordinary muffins or they will burn on the outside and be undercooked in the middle. Let me know what times work for you and I will correct the baking temp and time.

I made a few modifications on this recipe. First, rather than 1/2 c AP flour, I used 1/2 c whole wheat pastry flour. I also added about 1t vanilla (as per another review), 1t cinnamon and a sprinkle of nutmeg. I made them plain without the cranberries or the chocolate because I wanted to see what the base flavor would be like. This is a really lovely muffin if you are into whole grains. Not terribly dense, more spongy than crumbly. The flavor is really nice--full and well rounded without the grain being overpowering. Without the dried fruit and the chocolate chips, it is not at all sweet and would be a great side to a soup or stew instead of biscuits or rolls. I am guessing that you could decrease the milk a bit and add fresh fruit or any combination of dried fruit and nuts to suit your taste. For my taste, the extra sweetness of the dried fruit would be enough, but others might want to add an extra T of sugar or another sweetener (I am thinking molasses or sorghum would complement the flavor well.) Really enjoyed the recipe! Thank you!
Combine dry ingredients, oats, flour, rye flour salt baking powder and sugar in a large bowl.
In another bowl blend eggs, milk and oil.
Add the cranberries to the egg mixture.
Add egg mixture to dry ingredients and stir only to moisten.Do not beat.
Fill 12 non stick muffin pans 2/3 full with batter.
Bake at 325 degree F for about 15 to 20 minutes or until a tooth pick inserted in center comes out clean.