gailanng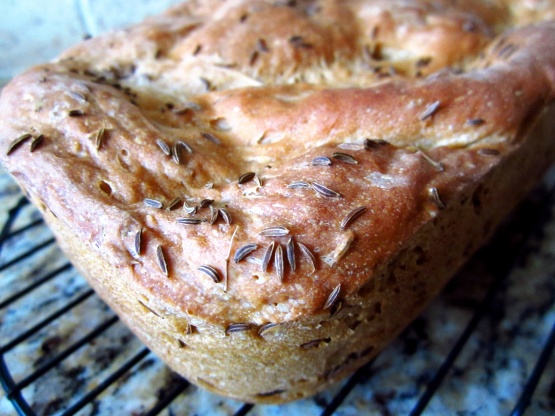 Recipe for bread machine. This bread is a light rye and we like using it for patty melts and rueben sandwiches.

*Outstanding* I tried really really hard to wait to have a piece with dinner, but it smelled so good I couldn't wait! I do not have an ABM so I had to adjust the technique a little. I put the warm water in the bowl of my mixer and sprinkled the yeast over it. After about 5 minutes my yeast started to foam and I then added the remaining ingredients in the order listed in the recipe. I beat the dough with a dough hook on speed 4 for 5 minutes and I did add an additional cup of bread flour. The dough was still a bit tacky but I left it be. I greased a large bowl with olive oil and added the dough, flipping it over to oil all sides. I covered loosely with plastic wrap and let rise for 1 hour in a warm place. After the hour I punched the dough down (it rose nicely) and formed into an oblong loaf on a cookie sheet lightly sprinkled with cornmeal. I sprayed the same platic wrap with cooking spray and lightly covered the loaf. It was ready to bake in 32 minutes. I scored the loaf a few time with a sharp knife and spritzed with cold water. I baked the bread at 400 F and spritzed with cold water at 3 minutes, 6 minutes, and 9 minutes. I continued baking for an additional 16 minutes (25 minutes total baking)until it sounded hollow when tapped. Basically I followed bread baking techniques I have seen here on Zaar. You have a winner of a recipe here Susie, I am saving it to my Favorites Cookbook :) Thanks so much for sharing- Nick's Mom
Heat water.
Add ingredients in order your bread machine instucts, mine calls for the liquids first.
Set machine on whole wheat medium cycle: at the beep check dough, you may add bread flour or water 1T at a time to adjust consistency of dough.
Wait for the bread to finish baking: ENJOY!