Ryan's Ravioli With Shrimp and Tomato-Cream Sauce
Brenda.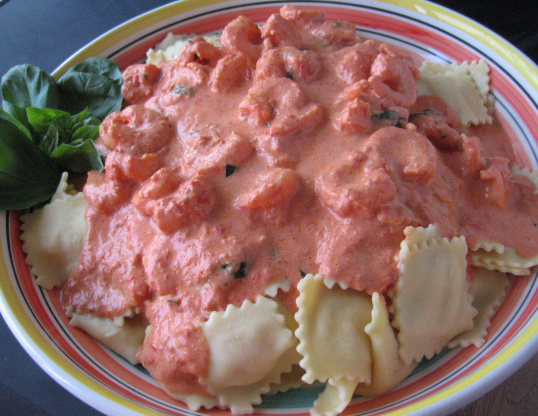 This easy to make pasta dish is my favorite. Mom serves it with warm Italian bread and a side salad. There are always leftovers to enjoy as well!

Made this tonight and it was divine! Easy, uses everyday ingredients and fairly fast to make. I didn't know how long it would take to reduce the cream, and it did take more than 15 minutes, but maybe because I had doubled the recipe, so mine came out a little thinner but tasty just the same. I did add salt to taste at the end. Thanks for posting an awesome recipe!
Begin heating water to cook ravioli.
Heat butter in medium skillet; add garlic and saute 1 minute.
Add tomatoes and stir until mixture is slightly reduced, about 10 minutes. If you are using whole tomatoes, break them up with the side of a spoon while cooking.
Boil the cream in a medium saucepan, stirring and adjusting heat to prevent boiling over, until reduced by half.
Add ravioli to boiling water and cook according to package.
Add cream to the tomato sauce. Stir in shrimp and simmer over low heat for 5 minutes.
Stir in basil.
Drain ravioli and place in large serving bowl. Pour tomato-cream sauce over the top and serve.