Ruth's German Boiled Meatballs and Gravy
Nif_H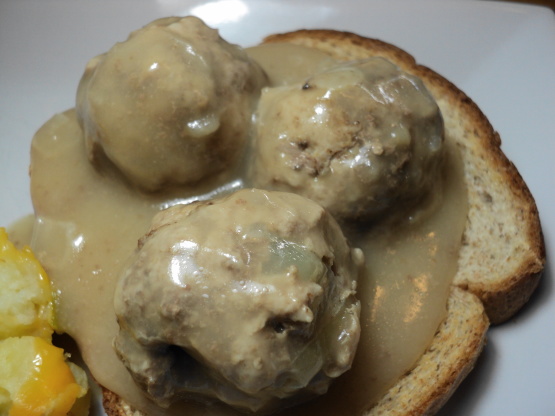 This is my Mom's version of German meatballs. Her mother used to make these but of course never used a recipe - she never even had a stove - always used a coal burning stove! Mom kept working on it and used a few more conventional ingredients and came up with this recipe. She always served it over extra-wide egg noodles.

Smells amazing! I, too, only had ground beef, but it made enough. I doubled the sauce too since I have two grown boys and a husband who loves this kind of food. I got the idea to look for something like this from a movie I watched on TCM Mother's Day called, "All About Momma". Near the end of the film, "Momma" was trying to get a celebrity writer to read her daughter's writings. She bribed her with a very favorite recipe that no one else had. The trick, she said, was to boil the meatballs in stock, not in water, and a little sour cream at the end. I thought, "Huh, that sounds very similar to Swedish Meatballs!" So, in my searches, I came across this recipe. Like I said, smells amazing. Can't wait to try it out on my family this evening. Blessings and thanks!
Mix the veal, pork, beef, egg, 1 teaspoons salt, pepper and onion together thoroughly.
Shape mixture into 1 1/2 inch balls.
To boiling water, add onion soup mix, bay leaf and 1/2 tsp salt - stir until mixed.
Drop meatballs into boiling water; cover pan, reduce heat and simmer for 1/2 hour.
Combine flour and cold water to make a thickening agent.
Add to simmering meat stock and bring back to a boil.
Boil one minute uncovered or until gravy is slightly thickened. (If you would like a little more gravy, add a bit more water and thickening agent).
Serve over noodles, rice or mashed potatoes.