Ruth's Chocolate Peanut Butter Cookies
Nif_H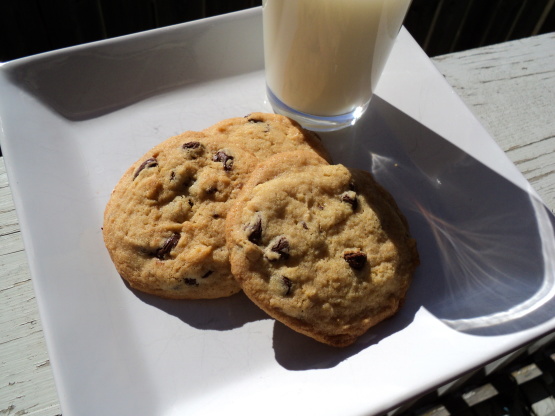 My mom used this recipe when I was a teenager and I've been making them since then. I love the background flavor of the peanut butter and love that it is not an overwhelming flavor of the cookie. Make sure to store in an airtight container. **Note 2/2010 - I have adjusted the amount of cookies you'll receive - this recipe makes 5 dozen cookies not 4.

Top Review by Nif_H
These cookies are absolutely phenomenal!!! The are soft with a bit of crunch on the outside. They are like peanut butter and chocolate chip cookies met right in the middle! I took some to work and everyone really enjoyed them. My husband rarely eats baked treats and he has had several, so that's a big compliment! I will be making a double batch in the next few days for work and home. I made these as directed but found that they are great at 14 minutes which is typical for my oven. I highly recommend that you enjoy these cookies with a glass of nice cold milk! Made for Went To The Market tag game. Thanks HokiesLady! :)
Preheat oven to 375°F.
Sift together flour, baking soda, baking powder, and salt and set aside.
Cream together the shortening and peanut butter.
Blend in sugars gradually into the shortening mixture.
Add the well beaten eggs and mix well.
In three portions, alternately add flour mixture, milk and vanilla (I'm trying to say add a third of the total of flour, milk and vanilla then mix then add the next third of each and mix and then once more add them together and mix).
Fold in chocolate chips.
Drop by tablespoonfuls (or use a cookie scoop) onto lightly sprayed cookie sheet.
Bake for 12 minutes or until lightly brown - do not overbake.
Let cool on sheet for 5 minutes before removing to wire rack to cool completely.