Ruth's Beer Marinated Meatballs
Got this recipe from a coworkerThese are so easy to make and everyone (especially men!) love them. They never last. You can make in crockpot or on the stove. Edited to add: Just wanted to mention that these are intended as an appetizer. I should have noted that originally. As a main dish, you probably would need to significantly reduce the sweetness. Also, the darker the beer, the more impact it will have on the flavor.
Directions
Combine chili sauce, beer, sugar, and Worcestershire sauce until well blended.
Add meatballs and stir until well coated.
Cook over low heat until heated through, about 1 hour.
Most Helpful
Was invited to dinner at 3 PM and not much in the pantry to "take along". This turned out well -- used about 20 meatballs, enough to cover the bottom of the crock-pot, and about 4/4 of of the jar of chili sauce. Left out the sugar, as noted by another reviewer. Cooked on low for about 1 1/2 hours - and they actually had a tad zippy taste -- may vary with the type of beer. Thanks for posting -- I will keep this handy.

Excellent!! I made these for our Xmas Eve appetizer get together last night. Beings so many reviewers thought the sauce was too sweet I did`nt add any brown sugar at all to the finished sauce. If you click on the Heinz Chili Sauce in your ingredients list it tells you how to make the copy cat version, it has brown sugar in it so I just let that be the only sugar that I used. I had Italian meatballs from Sam`s. I simmered the sauce for about an hour and a half, browned the meatballs in the oven then put them in a chafing dish and poured the sauce over them. I doubled the recipe, for the chili sauce, it takes 3 8oz. cans of tomato sauce when you double it, then I doubled everything else. One reviewer said she did a cornstarch mixture to thicken it up, I did the same, about 3 heaping Tbsp. of cornstarch mixed with some of the beer, it still could have been thicker but that`s a guideline for you. It will definitely be made every time I do meatballs for a party, it was such a big hit!! Thanks for posting.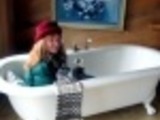 The overwhelming response of the family is that these were WAY too sweet, even with me using only 3/4 c brown sugar, and adding minced garlic and a diced yellow onion. I was disappoined that I could not taste the beer at all. I think I will do this again, but maybe only use 1/3c. brown sugar. I did use a cornstarch slurry to thicken the juices up some as I served this over orzo as a main dish. I will make this again, but using MUCH less sugar, and maybe a squirt of dijon mustard in the sauce blend.