Rusty's Chocolate Vegan Brownies
Verduras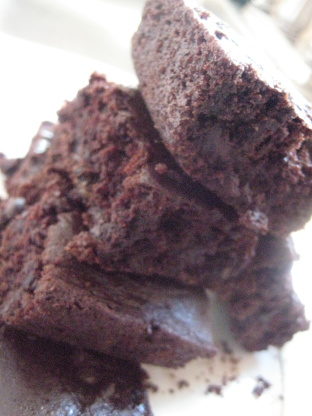 This is an adaptation on a recipe already on recipezaar.com. It is a really moist and delicious brownie. No one would ever know it was Vegan.

These brownies were incredible! We added a tablespoon of cinnamon and vanilla extract, and they turned out amazing! We also substituted the sugar for stevia, and they still turned out great. They were moist, chewy, and melt in your mouth gooey and delicious! This will turn into a family recipe to be made for years to come
With vegetable oil, lightly oil a 9 x 12 glass pan.
Preheat oven to 325 degrees.
With a fork, mix together the flour, cocoa, sugar, baking powder, baking soda and sea salt.
In a small bowl, blend the chocolate soy milk and applesauce.
Combine the liquid ingredients into the dry ingredients and thoroughly mix together.
Fold in the chocolate chips.
Pour batter into the oiled pan and bake for 35-40 minutes.
Smaller pans have a longer cooking time.