twissis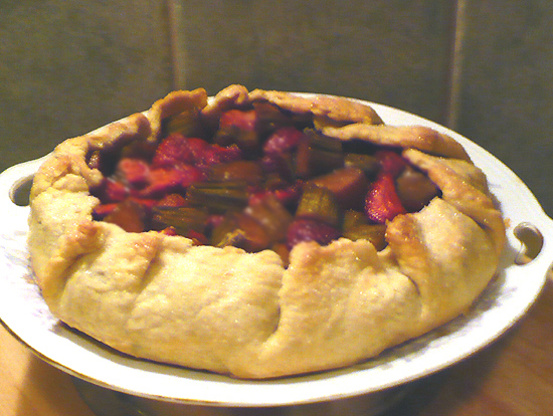 A recipe I found online somewhere. Can't wait to try it since I love rhubarb! Prep and Cooking times do not include the chill time for the crust!

This was so much fun for me to make, mainly because I took a big leap outside my comfort zone & had such a good outcome for our annual Post-Thanksgiving dinner party last nite. The mechanics were a bit scary for me, but I made them easy. I rolled the tart dough on floured parchment paper, laid my acrylic baking sheet over it & flipped it over so it was ready to assemble on my oven rack. The dough is very easy to work with, formed the rustic edges easily, did not let a drop of filling escape & tastes great. I used the greater amt of water as allowed & made 2 chgs ~ I did without the crystallized ginger as there was none at our grocery store & my raspberries turned out to be strawberries, so I did what I had to do & used them. It was done in the time stated, but IMO was a bit dry, a bit more tart than I prefer & would benefit from a smaller dice of the rhubarb vs the lrg chunks. BUT I admit others did not agree. I served it w/frozen vanilla yoghurt & got heaps of praise. Congrats on your Wk 11 Football Pool win & thx for sharing this recipe w/us. :-)
Crust: In a food processor, combine flour, sugar, and salt. Pulse to mix. Add butter; pulse until coarse crumbs form. Pour 3 Tablespoon of the water over top of crumbs and pulse just until dough begins to come together. (If dough is dry, add the remaining water.) Gather dough into a ball; press into a disc and wrap in plastic wrap. Refrigerate 1 hour or overnight.
Filling: In a large bowl, toss rhubarb, 1/2 cup of the sugar, cornstarch, and 1/2 teaspoon of the grated orange zest until combined. Let stand 25 minutes, stirring occasionally. In a small cup, combine the remaining 2 Tablespoon sugar and the remaining 3/4 teaspoon grated zest.
Heat oven to 425 degrees F. Line a large baking sheet with parchment paper. On a lightly floured surface, with a floured rolling pin, roll dough into a 13-inch circle, pressing any cracks together at edges. Drape dough over rolling pin and transfer to baking sheet.
Gently stir raspberries and ginger into rhubarb mixture. Spoon filling onto dough circle, leaving a 2-inch border of dough uncovered. Fold edge of dough up onto filling, pleating dough and pressing any cracks. Dot filling with butter. Brush dough with water and sprinkle sugar-zest mixture over dough and filling.
Bake 15 minutes. Reduce temperature to 375 degrees F. Bake 25 to 30 minutes longer, or until crust is brown and filling is bubbly. Let tart cool on pan on wire rack 15 minutes. With a spatula, slide tart onto wire rack to cool completely.