Rita1652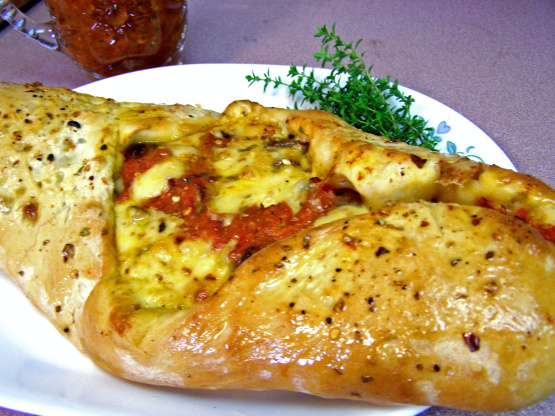 This is a spicy, hot, meaty man's pizza/stromboli. You decide! A great food for a mans belly! If you can't handle the heat, replace the cheese for a mild cheese and sweet sausage.

The best! My husband asked that I close the stromboli because it "just wouldn't be the same" to him. I used frozen bread dough and in hindsight I wouldn't again b/c it was impossible to roll out. I will use pizza dough next time making sure that it is pretty thin. I messed up your instructions by brushing with olive oil before baking and I'm glad I did because it gave it a rich brown color that looked wonderful. To prepare, I got out my little saucepan and cooked the sausage, removed it, cooked sliced red bell pepper, removed it, etc. Until all the ingredients were cooked and ready for assembly. This was very easy to assemble and tasted fabulous. The pepperoni, mushrooms, onios and sausage made a savory filling. I did use plain mozzarella and regular sausage so we it wasn't spicy. Thanks!
1

lb pizza dough
1⁄2 cup pizza sauce

2

links hot sausage (cooked and sliced)
1⁄2 cup sliced pepperoni
1⁄2 cup roasted red pepper, sliced
1⁄2 cup sauteed mushroom, with onions

8

ounces shredded habanero pepper cheese

1

teaspoon dried Italian herb seasoning

2

garlic cloves, thinly sliced

Garnish

chili pepper flakes
grated cheese
Preheat oven to 425.
Roll out dough into a 14 inch circle.
Spread all of the ingredients in order as posted to 2 inches of edges.
Bring the edges up and over but not to completely close. Sprinkle with pepper flakes and grated cheese. Take note of picture. This is rustic.
Bake for 20-25 minutes. Remove from oven and brush with olive oil.
You are welcome to have a bit of extra sauce on the side for the sauce lovers.