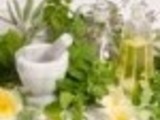 Rich tasting tomato sauce Thanks to.Irmgard,I found out I can make this in the slowcooker on Low for 5 hours.
Directions
On a lined cookie sheet, spread onions, zucchini, pepper and mushrooms.
Sprinkle with olive oil, salt and pepper.
Roast uncovered at a 425°F oven for 45 minutes.
Meanwhile bring a 28 oz can of tomatoes to a boil then simmer with the garlic.
Combine with roasted vegetables and herbs.
After adding the vegetables and the herbs to the tomatoes simmer another 30 minutes.
Serve with freshly cooked penne or pasta of your choice.
Sprinkle with shaved parmesan cheese and freshly crushed pepper.
Most Helpful
Sage, Had this for supper tonight. Can't believe the sweetness of the roasted vegetables. This simple recipe is a keeper!!! Thanks for posting. Barb
I did this sauce a little differently. Since tomato-based sauces tend to burn on my stove top no matter how low the heat is, I made the sauce in my crock pot. I put the tomatoes mixed with the herbs to cook on low while I roasted the vegetables, among which I included the garlic so that it would caramelize with the rest of the vegetables. I increased the amount of olive oil slightly as I used extra mushrooms and seasoned the vegetables before roasting with a good grind of sea salt and fresh black pepper. Six teaspoons of pepper would have been too spicy for my taste. When the vegetables were ready, I added them to the crock pot and cooked everything for approximately 5 hours on low. The finished sauce was wonderful. Thanks for sharing!

This is wonderful for vegetarian. I added some goats milk feta cheese on top then put it a few minutes under the broiler since that is the cheese I had on hand. I also omitted the thyme out of preference and used fresh parsley and the rest of the herbs in dry form. I left out the bell peppers as I didn't have any on hand and used a good quality canned plum tomatoes which I broke up. I made a half batch and that may be the reason I roasted the vegetables for less time and turned down the oven in the process. Served with a fresh salad this was a good meal I would make again.