Rustic Melted-Onion and Cheese Picnic Pie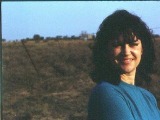 1/4 Photos of Rustic Melted-Onion and Cheese Picnic Pie




Total Time:
Prep Time:
Cook Time:
1 hr 30 mins
20 mins
1 hr 10 mins
A delicious pie for picnics, potlucks, lunch, or as a side dish with a simple main course such as baked chicken pieces or fish. If you have a mandoline, use that for slicing the onions, but a sharp knife and a cutting board will be just fine: pour a glass of wine and sit outside so your eyes don't burn! Note that you can choose which cheese to use: for the photo's I used Camembert, which goes on the bottom, and which will melt deliciously as you cut the pie. If the pie is to be eaten cooled or cold, use feta cheese, and put it on top of the pie as its reaction to oven heat is different from soft cheeses. I made this with feta for a picnic, but if it's to be eaten fairly soon after baking, I would use Brie or Camembert. Yummy!
My Private Note
Directions:
1

Use a glass or other ovenproof pie dish for this dish.

2

Peel and slice the onions very thinly. If you have a mandoline, use that to slice the onions.

3

Fry the onions in a pot (a pan/skillet might be too shallow). Use only a low-to-medium heat. You can put the lid on the pot. Stir occasionally, and cook the onions for 40 minutes, or until they are very soft and "melting". (Decide how much olive oil you need) Sweet onions are nicest, but red onions are also great, and will just cause more eye-watering!

4

Add the balsamic vinegar and the sugar, and stir well. Cook a little longer.

5

Please do not leave out the anchovy fillets if you dislike them. Anchovies have the unique ability to disappear into a dish and only add a subtle completely non-fishy flavour -- honestly! Chop or break up those anchovies finely, (no need to rinse them), and stir. They will dissolve and disappear into the onion mixture.

6

Sprinkle over the nutmeg, add the thyme or rosemary (or both), and the parsley, and stir into the onions. If liquid has formed at the bottom, turn heat higher, stir, and cook off the excess liquid.

7

Pull off the heat and leave.

8

While the onions are cooking, beat the eggs and roll out the pastry.

9

Roll the pastry (cold!) thinner. Use flour or cornflour on your counter or wherever you roll out the pastry, and if necessary flour your rolling pin. In South Africa shop-bought puff pastry comes in 400 g rolls, so all of it has to be defrosted: keep the cuttings for another purpose or chuck away.

10

Heat oven to 400 deg F or 200 deg Celsius.

11

Line the tart plate with the pastry, and crimp the edges neatly.

12

Paint the pastry with some of the beaten egg, concentrating on the edges. If this job is finished long before the onions are ready, put the prepared plate in the fridge to keep cool.

13

When the onions are ready, scrape them into another bowl and stir to cool them.

14

If using Brie or Camembert, cut it up into bite-sized chunks and spread on the bottom of the pastry.

15

Add the rest of the beaten eggs to the onion mixture, then spread it over the cheese. Sprinkle with the pepper and the breadcrumbs.

16

If using feta cheese, put the onion-egg mixture in first, then crumble the feta over the top, and top with pepper and breadcrumbs.

17

Bake in the preheated oven for 30 minutes. Lower the heat to 350°F/180°C after the first 15 minutes.

18

*Don't add extra salt unless the final mixture tastes too bland. The anchovies and feta are both salty. Do remember that Brie or Camembert is preferable if you can serve this pie soon after it is ready, because if these cheeses cool down completely, they can become rubbery.
Nutritional Facts for Rustic Melted-Onion and Cheese Picnic Pie
Serving Size: 1 (283 g)
Servings Per Recipe: 6
Amount Per Serving

% Daily Value

Calories

652.9

Calories from Fat 373

57%

Total Fat

41.5

g

63%

Saturated Fat

13.6

g

68%

Cholesterol

91.5

mg

30%

Sodium

682.2

mg

28%

Total Carbohydrate

52.7

g

17%

Dietary Fiber

4.1

g

16%

Sugars

9.6

g

38%

Protein

18.1

g

36%
Ideas from Food.com
Pop a bottle, cook some special dishes and celebrate the season.

---
Over 475,000 Recipes
Food.com Network of Sites