Rustic Italian Minestrone
STAMAR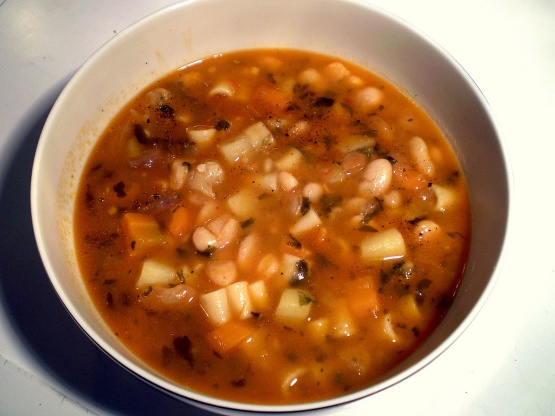 I found this on the food fit website. I guessed on the times since I have not made this yet but plan to before winter is over/ yum! UPDATE:Made 1-18-09 and it was good. I used frozen green beans ans they worked really well.
In a large soup pot, heat the olive oil over medium heat. Add the onion, carrot and celery and cook for 5 minutes, or until the vegetables begin to soften. Add the garlic, season with salt and pepper and cook for 2 minutes more.
Add the tomatoes, vegetable or chicken broth and herbs, bring to a boil and turn down to a simmer.
Add the green and cannellini beans and simmer for 2 minutes.
Add the zucchini and pasta and simmer for 10 minutes, or until all of the vegetables are tender and the pasta is al dente. Season with salt and pepper.
Serve the soup in large bowls with a sprinkling of Parmesan cheese.