Rustic Grilled Chicken Salad With Lite Honey Mustard Dressing
Nif_H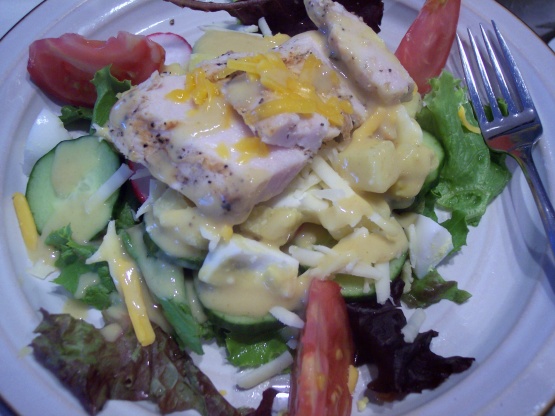 This is a healthy main dish salad that tops crispy lettuce with diced egg, juicy tomatoes, cucumbers, boiled potatoes, and cheddar cheese. Top that with lemony grilled chicken and a wonderful honey mustard dressing and dinner is served. Note: Cook time does not include marinade time or time to boil the eggs.
In a medium Ziploc bag mix, lemon juice, olive oil, lemon pepper, and 1/2 t. garlic powder. Knead to combine. Add chicken and marinade 30 mins or more.
While chicken is marinating, combine yogurt, honey, mustard, sugar and 1/8 t. garlic powder in a small bowl. Set aside in fridge.
Preheat the grill to med high. Grill the chicken 3 to 5 mins per side or till temperature is 155. Remove from grill and cover with foil and let rest at least 10 minutes.
While chicken is resting, divide remaining ingredients except cheese among 3 plates. Slice chicken and divide among plates, top with dressing and cheese.
Grab a fork and dig in….