Boomette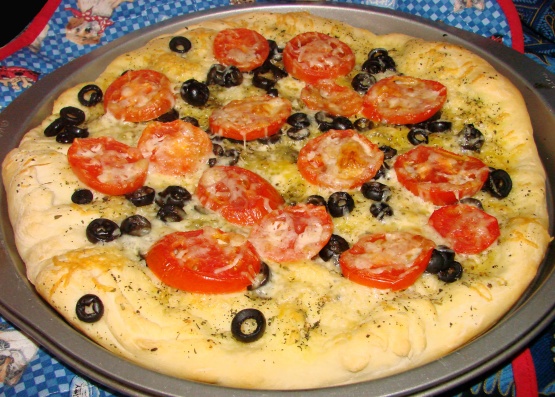 Another one of those Pampered Chef recipes (I wish I could work in their test kitchen!)
Preheat oven to 400 degrees F.
Place unrolled pizza crust into pizza pan, roll to the edges of the pan.
Mixing well, combine the oil, seasoning mix and garlic.
Spread over pie crust.
Top with 3/4 cup mozzarella cheese.
Sprinkle olives and onions over the mixture, then top with tomatoes and remaining mozzarella cheese.
Cover with Parmesan cheese and additional Italian seasoning mix (to taste).
Bake until the crust is golden brown, and the cheese is melted, about 23-26 minutes.
Let stand for 10 minutes before cutting and serving.