Rustic Cranberry-Pear Galette
nycbabs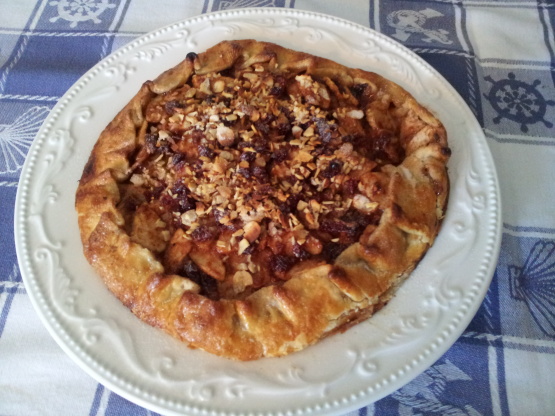 Although now slightly tweaked, this recipe comes from the Jan 2003 cookbooklet Favorite Brand Name Recipes -- Holiday Desserts. Why it's called a 'galette' is beyond me since in France, I understand that refers to a type of cake, while in French Canada, I think it's more like a large cookie. What this recipe makes, for me, is more like an open, rustic pie! Whatever you call it, it is delicious!

This is so good. We made it for our Christmas dinner and everyone really liked it. The pears stay firm, but not too much - and not all mushy. I like that. The craisins are perfect. I think the crust needs some more sugar over the top. The only problem was it took about an hour to cook all the way through. The crust was close to done around 40 minutes, but not the filling. Maybe we just made it too big. It's not that big of a deal though. Very very Good. Made and Reviewed for 123 Hit Wonders Tag - Thanks! :)
Preheat oven to 450 degrees F. Coat pizza pan or baking sheet with nontstick cooking spray, then set aside.
Set aside 1 teaspoon sugar, then, in a medium bowl, combine remaining sugar, cornstarch & cinnamon, blending well.
Add pears, cranberries & vanilla extract & toss to coat.
Remove crust from pouch, then unfold it, remove plastic sheets & place it on the prepared baking sheet.
Spoon pear mixture in center of crust to within 2 inches of the edge.
Fold edge of crust 2 inches over pear mixture & crimp slightly.
In a small bowl, combine egg white & water & whisk until well blended.
Brush egg wash onto outer edges of pie crust & sprinkle with remaining 1 teaspoon of sugar.
Bake 25 minutes or until pears are tender & crust is golden brown. If edges brown too quickly, covere with foil after 15 minutes of baking.
Cool on wire rack at least 30 minutes.