Rustic Country Flatbread With Added Goodies!
Derf2440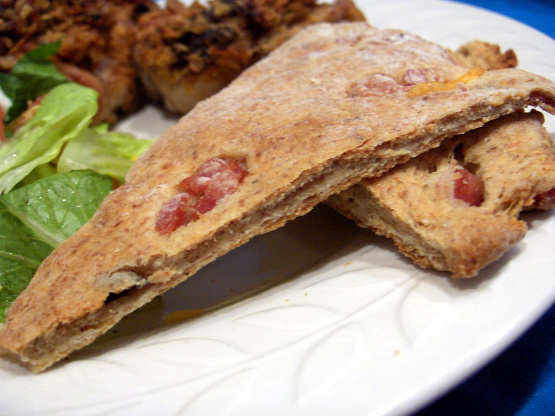 I just took a simple flatbread recipe and added ham, cheddar cheese and mushrooms. This a great side to a salad, soup or on it's own for a snack with warm marinara sauce for dunking! This makes 4 round flatbreads (you can also make them any shape you wish). If you don't want to make the whole recipe, it's easy to half it.

DH loved these and me too! A lovely change form regular crackers or bread!! Loved the goodies too. I used sharp cheddar cheese and the ham with the mushrooms. We had them with salad and chicken for supper. The recipe made a lot so they will make great snacks and am looking forward to having them with soup. Thanks for posting I will be making them again.
Heat oven to 400 degrees.
In large bowl combine all of wheat flour/about 3 1/2 cups white flour, butter and water (the extra cup of white flour is for your board and easy handling). Let stand until cool (about 5 minutes).
Stir in remaining ingredients (including the mushrooms, cheese and ham/proscuitto/bacon) using enough flour to make dough easy to handle. Turn dough onto lightly floured surface and knead about 5 minutes.
Divide dough in quarters.
Roll out each quarter on floured surface as thin as possible. Flat breads will be irregular in shape. Place on ungreased cookie sheets (you might have to bake in two stages). Bake 20 minutes, depending on thickness, or until golden brown.
This makes 4 8-10" rounds. Cut into wedges and enjoy!