Parsley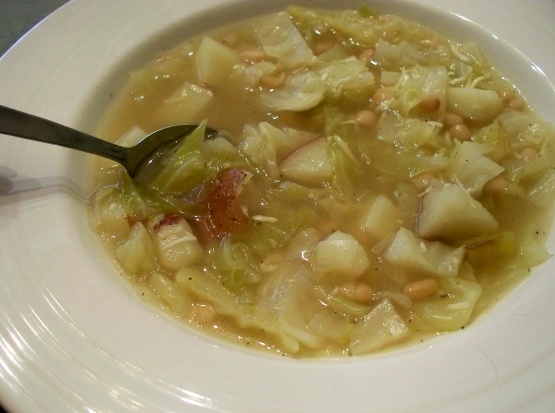 You're gonna love this!! This will warm you up in no time. It's great for any time, though, not just in the winter. I like to serve a loaf of extra-sour rye bread, uncut and we just pull pieces off and butter it. Talk about rustic! You can use beef broth, chicken, or vegetable broth or a combo of all. I don't recommened water, but if you do use it, I'd go a little heavy on the seasonings. MMMMMMMMMMM!

I loved this soups flavor and versatility. Used yukon gold potatoes because they are tender and hold their shape. Didnt get a good brown color on the potatoes so I added a little bit of butter. Had a leek that needed to be used so I added that to the onion, garlic, and cabbage. Added a can of northern beans and used about 3 cups of chicken broth and 2 cups of vegetable broth. Also stirred in about a cup of white wine. The cabbage was sweet and tender and loved the beans with the potatoes. I think I might add a can of petite diced tomatoes to the leftovers tomorrow. Bite sized chicken pieces would be nice in this soup too. This will be another one of my favorite soups! Made and reviewed for KC"S Going Green For March Tag Game.
Warm the olive oil in a large thick-bottomed pot over medium-high heat. Stir in the salt and potatoes.
Cover and cook until they are a bit tender and starting to brown a little bit for about 5 minutes. It's ok to uncover to stir a couple of times.
Stir in the garlic and onion and cook for a few minutes until the cabbage softens up a little bit.
Add the stock and the beans and bring the pot to simmer.
Stir in the cabbage and cook for another couple of minutes, or until the cabbage softens up a bit.
Now, adjust the seasonings; getting the seasonings right is important or your soup will taste flat.
Taste and see if you need more salt.*.
Note* The amount of salt you will need will be determined by how salty your broth or stock is. Canned broths will sometimes vary between brands and homemade stocks will vary from canned.