Rustic Bread for the Bread Machine
Sageca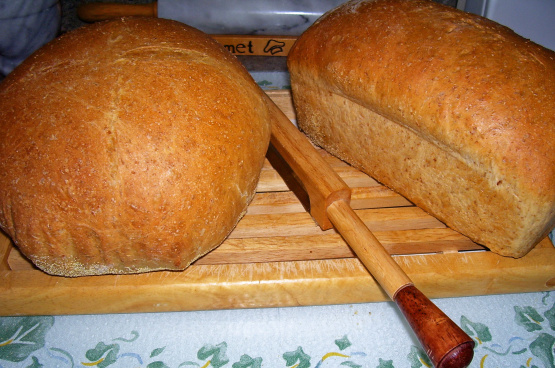 This recipe is a combination of different bread recipes I have been working on for my Bread machine.I used to make a bread that had a Biga(Italian starter).I found PanNan's recipe, worked on it and came up with this great Rustic Bread.

The flavor of this bread was fantastic! I do not own a bread machine so used my bosche for the mixing. Since I don't use a bread machine - I don't know how long it usually takes for it to make a loaf of bread. So I did notice it took a few hours for the dough to rise the first time. Not a big deal at my house. Someone else might like that info though - if not using a bread machine. :) I dusted the tops with flour before baking and loved the results! The family loved it! Thanks for sharing. Made for the September Aussie/NZ recipe swap. This is going in my bread files!
Biga:.
In a glass or plastic bowl,stir flour, yeast and water together with a wooden spoon until smooth.Cover with a cloth and let stand overnight.It will be kind of bubbly.
Bread:.
Stir together flours,sugar,salt,.
and Vital Gluten; set aside.
Pour starter in bread machine.
Add water, honey, Barley Malt,butter and oil.
Add the flour mixture.
Make a groove in flour and add yeast.
Set Bread machine to Dough cycle.
Keep an eye on the machine as dough may reach the top before the end of the cycle;if this happens push it back down.
At the end of this cycle, remove dough from machine and split it in 2.
Shape your breads in free form or in bread pans.
Preheat oven 400*.
Cover breads and let them rise for 45 minutes.
Score the loaves.
Place in hot oven for 10 minutes.
Reduce heat to 350* and bake another 30 minutes.
Remove bread from pans and tap the bottom to make sure it is baked(hollow sound).If not, return bread in the oven (without the pan)for another 5 minutes.
Tip:.
If you do not have Barley Malt double the amount of honey.
While the oven is preheating,I set a large pan on top of the stove and sit my breads on a cookie on this pan for the rising stage.It works all the time.