Russ's Ranch Potato Salad
JustJanS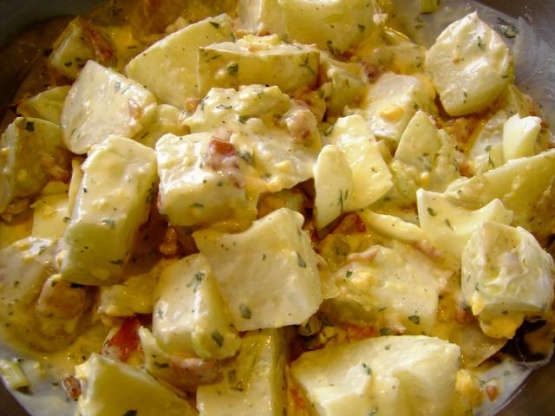 I'm married to a wonderful cook. Here's a salad he came up with tonight.

Top Review by Tisme
I made this recipe for DS to take to an Australia Day B.B.Q.
I made this the night before and I did taste it before it went, this salad was so creamy and the flavours had blended so well for the next day.
DS also loved the creamy taste this salad had and said "That everyone loved it and there was only a little left over", but not to worry he bought the leftover's home for his lunch to take to work the next day!........What manners!!!!!!!!!
The funny part was...... DD ate it before he got to it, oh now that made for a nice little battle of words!
Wonderful recipe Jan, I will be making this again!
Dice the potato into about 1 inch pieces.
Bring a large saucepan of water to the boil, and cook the potato cubes for about 12 minutes or until just tender.
Drain and allow to cool.
Meanwhile, heat the oil, and cook the bacon and onion about 5 minutes or until softened; cool.
Mix the ranch dressing mix, mayonaisse, cream, mustard and parsley together.
Gently fold the cooked potatoes, bacon and onion mix and chopped eggs through the dressing and serve.
We like to serve this either warm or just at room temperature.