Russian Tea (All Natural)
Annacia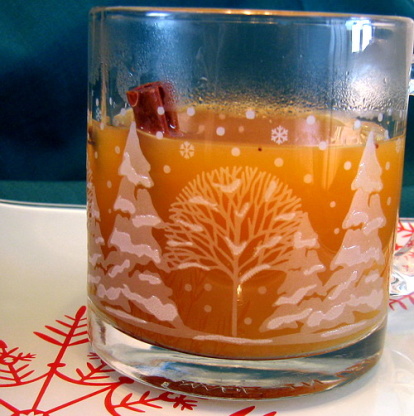 Remember Lara's little kitchen in the country town in Dr. Zhivago? I believe that this is how that kitchen must have smelled --spiced tea brewing in the warmth while the cold winds rage outside. Recipe from Whole Foods.
I've never had Russian Tea before, and now that I'm sipping on a cup of it, I think it's a very lovely tea. The only change I made was to use Lemon Zinger herbal tea bags and omitted the lemon juice. The kitchen still smells like spices.
6

cups cold water

6

whole cloves

4

black tea bags (0r a generous tablespoon of loose tea)

1

cup orange juice

2

tablespoons lemon juice
1⁄4 cup sugar, more to taste
1⁄2 teaspoon nutmeg, freshly grated
Bring water, cinnamon stick and cloves to a boil in a medium saucepan; remove from heat and add tea.
Steep, covered, for 5 minutes. Strain and discard the tea leaves and whole spices.
In a small saucepan, heat orange juice, lemon juice, sugar and nutmeg. Warm until the sugar dissolves.
Add the juice mixture to the tea. Taste and add more sugar if desired.
Reheat (don't boil!) and serve.