Russian-Style Turkey Cutlets
Kim127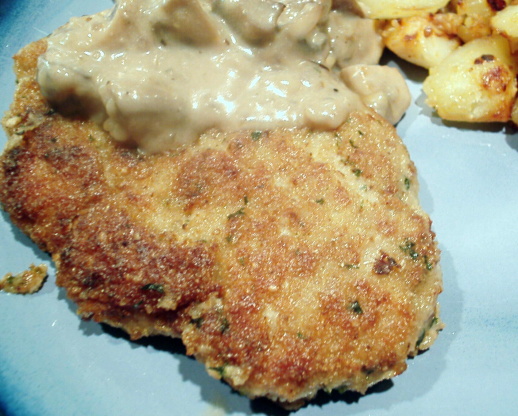 So simple and so good--these cutlets are a case where the whole is greater than the sum of the parts. Ground turkey is often disappointingly dry, but here a bit of butter and cream keep the meat moist. The butteriness of the juicy cutlets contrasts beautifully with the racy freshness of an uncomplicated red wine. A Beaujolais from France or a merlot from Trentino in Northern Italy or will be perfect.

I have to agree exactly with what another reviewer said -- a little bland, and not bad but not fabulous. The use of butter also kind of defeats the purpose of using a lean meat like turkey. I probably will not make again.
Break the bread into pieces. In a large bowl, soak the bread in the half-and-half until the liquid is absorbed, about 2 minutes. Mix in the turkey, egg, salt, pepper, dill, and the 3 tablespoons room-temperature butter. Put in the freezer for about 10 minutes to firm up.
Remove the turkey mixture from the freezer; it will still be very soft. Form the mixture into four oval cutlets and coat them with the bread crumbs.
In a large, nonstick frying pan, heat the remaining 2 tablespoons butter and the oil over moderate heat. Cook the cutlets until golden brown and just done, 4 to 5 minutes per side.
Menu Suggestions.
Sautéed mushrooms are the traditional Russian accompaniment to turkey cutlets. Beets, glazed carrots, and mashed potatoes are other excellent possibilities.