Derf2440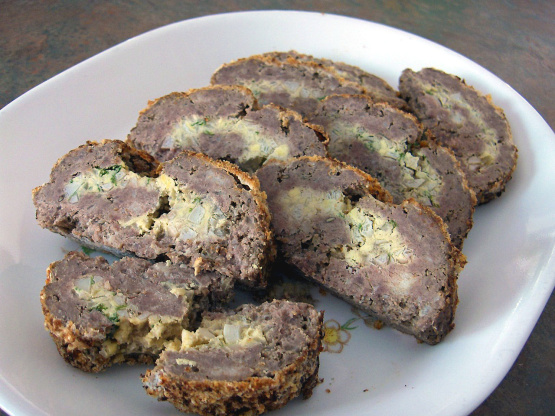 The ONLY meatloaf I could eat prior to this one was my Mamma's. One of my Russian interpreters invited me to dinner one night and she served this one. It was so good I immediately had her translate the recipe. I've tried it here in the U.S. and it's just as good. Makes excellent meatloaf sandwiches!

Quite a different meatloaf and very delicious. For flavour it deserves a 5 star rating. I gave it a 4 star only for presentation. It split along the top on one end, down to the filling. Loved the filling and especially loved the nice crunchy top. We ate the split end and wrapped the other end in tinfoil to freeze for one day when it's too hot to cook. I did taste it cold and it will be every bit as good cold as it was hot. I will make it again, and perhaps I won't spread the meat quite so thin, that may be why it split, not sure. In any case we enjoyed it very much, thanks for posting a meatloaf just a little different! July 8/07, just back to tell you we had this from the freezer last night sliced and delicious with green salad. Thanks again!!
Melt the butter in a small skillet over medium heat. Add the onion and sauté until lightly colored, about 12 minutes.
Meanwhile, soak the bread in the milk for 10 minutes. Squeeze the bread to remove any excess milk and crumble into a large bowl. Discard the milk.
Add the beef to the bread along with the onions with the butter used to cook them in, eggs, ice water, sour cream, and salt and pepper. Knead until thoroughly blended. Set the meatloaf mixture aside.
In a second bowl, combine the hard cooked eggs, scallions, and melted butter. Season lightly with salt and pepper and mix.
Preheat the oven to 375°F Line a baking sheet with aluminum foil.
Spread the meatloaf mixture out on a large piece of waxed paper into a 12x10-inch rectangle. Spread the stuffing over the meat mixture, leaving a 1 inch border on all sides. Roll up like a jelly roll, starting on one long side. Peel back the waxed paper as you roll.
Place the roll, seam side down, on the prepared baking sheet. Spread the mayonnaise on the roll, using a rubber spatula, and sprinkle generously with bread crumbs and with the sweet and hot paprika.
Bake 1 hour. Cut into thick slices and serve at once.