Russian Stroganoff with Bacon
ImPat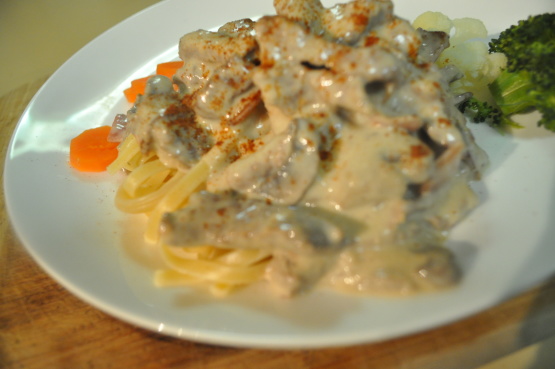 This recipe came from Betty Feezor's show on WBTV in NC many, many years ago. The bacon give lots of flavor.

Top Review by ImPat
A good basic recipe as posted the only changes I made were that I cooked my bacon in the oven till crispy and once cooled chopped. I seared the floured strips in batches (adding more oil as required) and then proceded from step 4 adding 2 cups of stock (water mixed with powdered beef stock) and simmered for about 1/2 hour with the lid partially off the pan, gave a good stir and then put the lid on and set it at just a burble (barely simmering) for the rest of cooking time. I used fresh swiss brown mushrooms and lean round steak but felt it was missing something and think a good slurp of paprika could lift it - I did sprinkle some over the finished portion but it really needed to be added into the cooking process but overall a simple good midweek and econimic recipe and would recommend but we really enjoyed the addition of the bacon as it added a little smoky flavour to it and with the paprika I think it would be tops., made for Bargain Basement Tag Game.
Mix flour, salt and pepper and place the round steak strips in the mixture.
Fry the bacon in a large skillet-- take the bacon out and reserve.
Leave the remaining oil in the pan and fry the floured strips- add the mushrooms.
Once browned, add about 1-2 cups of water along with two or three bouillon cubes and simmer for one hour.
Check during this cooking time to make sure there is always water in the pan.
Add the sour cream to taste and the bacon strips that should be crushed up.
Serve over noodles.