Lorac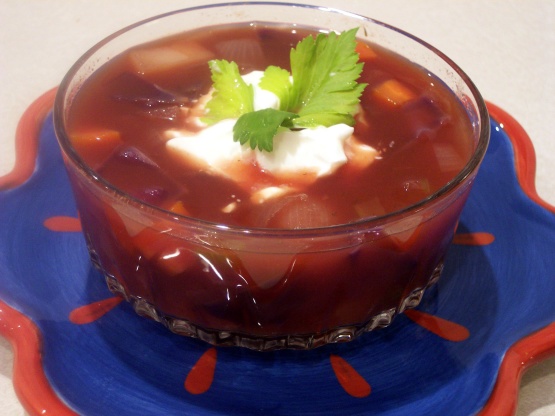 This delicious soup recipe was given to me by a good friend from Louisiana about three years ago. Not only is it a great vegetable soup, it is low-fat, low calorie, and nutritious. I like to serve it with some good dark rye bread or a roll.

Strong flavor! Serve with a pastrami or corned beef sandwich for a great cool weather dinner!
Place sherry and 1/4 cup vegetable broth in saucepan with onions.
Simmer 5-6 minutes.
Add beets, carrots, cabbage, potatoes, celery and 1 cup additional broth.
Cover and simmer for 10 minutes.
Add remaining broth, spices, vinegar, apply juice, raisins and tomato sauce.
Bring to a boil; lower heat and simmer for 25-30 minutes.
Garnish with plain yogurt, if desired.