Russian Pork Chops and Potatoes in Sour Cream Sauce
Annacia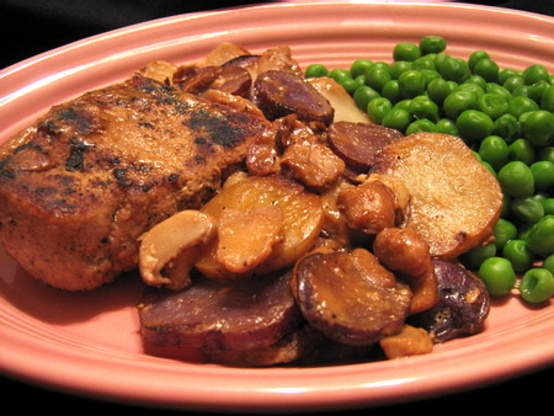 Another one that I really like, but can't remember where it came from.

I used a mix of purple and white potato's and doubled the garlic and onion powders. Very easy to make and quite tasty,I did have to use more water to keep it moist and went with fat free sour cream. This is a very hearty dinner with real "home cookin'" flavor. I used thick pork loin but it didn't need any extra time. This is a good one Debbie. Made for Photo Tag.
Spray skillet. Heat it over medium heat. Add potatoes and brown lightly. Set aside.
Season chops with powders and pepper. Put a little oil in skillet. Cook chops for one minute on each side. Drain fat if necessary.
Add water. Cover and cook for 10 minutes.
Add potatoes and mushroom. Cook for 10 more minutes.
Stir in sour cream. Heat thoroughly, but don't boil.