Brenda.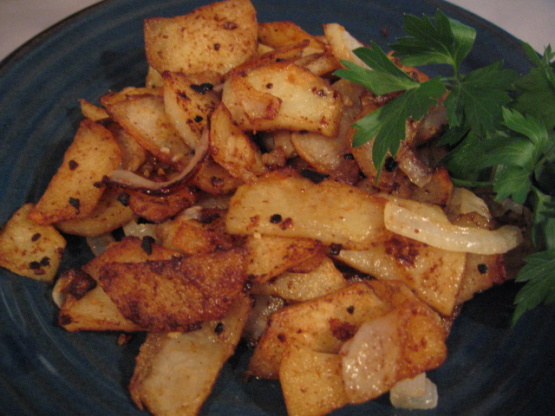 My parents usually made this at breakfast with fried eggs and fresh garden salad. It's simple, easy and yummy! You can adjust the recipe accordingly. I personally love adding lots of garlic and onion, but that's just me.

I quartered this recipe and it was just the right amount. I had a little bacon grease left over so I used that instead of oil. Very good, I never thought of using garlic in our breakfast potatoes, but we liked it. Thanks for sharing. *Made for Fall PAC 2008*
10 -15

medium sized red potatoes

1

tablespoon salt

1

diced medium sized onion
Peel potatoes.
Dice up the garlic and onion and mix them together. Then separate them into two cups of equal portions.
Slice potatoes, but not too thick. About two or three millimenter should do it.
Place potatoes in a large bowl.
Pour tablespoon of salt on them and mix it up with your hands. Add more salt to make sure the potatoes are evenly salted.
Oil two frying pans and separate the potatoes into the two frying pans. Start on medium so that it doesn't burn or start freaking out on the stove.
Cook until the potatoes on the bottom become browned. Turn the potatoes over and repeat until slightly browned.
Now, add the garlic and onion mixtures to each frying pan and mix it up.
Wait until the potatoes are soft and browned.
You're done! Enjoy!