Russian Easter Dessert (Pashka)
Liesma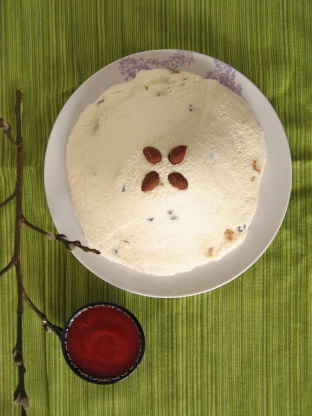 Russian Orthodox Christians created this dessert in celebration of Easter. This dessert is similar to a fancy French dessert made in heart shaped draining forms for Valentines Day, and cheesecake without the crust. Absolutely delicious! You can, of course, add other ingredients instead of the candied fruit and almonds.

Top Review by aevil
It's also known as pasha in Finland. Terrific when spread on a sweet yeast bread like kulitsa. Good recipe with the exception of the instructions for the custard. Instead of the above, mix the yolks with half the sugar and 2T of cornstarch together well in a small bowl. In a saucepan place the cream and other half of the sugar and bring it just to a boil while constantly stirring. Remove from heat and pour a third of the hot cream into the yolk mixture while whisking to temper the yolks. Pour yolk mixture into the saucepan with the cream and heat again over medium heat, while stirring, until it just begins to boil. Stir until you notice it thicken and remove from the heat, stir in butter and vanilla. Allow to cool.
Mix egg yolks and whipping cream in heavy saucepan.
Stir in sugar and salt.
Cook over low heat, stirring constantly, until mixture just coats a metal spoon, 12 to 15 minutes.
Remove from heat; stir in vanilla extract.
Place saucepan in cold water until custard is cool.
If custard curdles, beat with hand beater until smooth.
Place 3 cups of the cottage cheese and 2 tablespoons of the butter in blender container.
Cover and blend on medium speed, stopping blender occasionally to scrape sides, until smooth.
Repeat with remaining cottage cheese and butter.
Stir custard into cheese mixture until smooth.
Stir in candied fruit and almonds.
Line a 2-quart non-clay flower pot (or any form dish WITH OPENINGS IN THE BOTTOM, like a flower pot has) with double layer dampened cheesecloth.
Pour cheese mixture into pot; fold ends of cheesecloth over top. Place pot on cake rack in shallow pan; place weights on top.
Refrigerate 12 to 24 hours, pouring off any liquid that accumulates in pan.
To serve, unmold onto serving plate; remove cheesecloth.
Garnish as desired with additional candied fruit and blanched almonds.
Refrigerate any remaining dessert.