Aram5262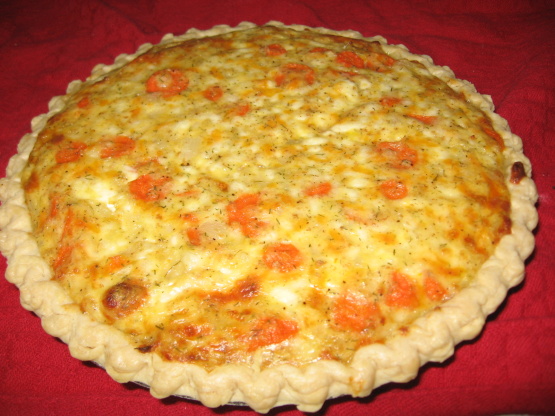 I've made this vegetarian recipe from The Enchanted Broccoli Forest cookbook so many times that my copy of the cookbook fell apart at that page! Economical, unusual, and absolutely delicious. Also travels well and keeps for a week in the fridge.

This recipe worked out wonderfully for us. I made a few adjustments while cooking it, merely to add a bit of my own personality to it. I began by sauteing the onion with garlic in olive oil. While adding the carrots, I also included chopped red pepper. I seasoned the veggie mixture with coarse pepper and sea salt. I used Colby as my "mild white cheese" and added less then the suggested 1/2 cup. For baking I used fluffernutter's suggested "Crunchy Nut Pie Pastry" (recipe #146594) and still had enough filling left to do more, so I poured some into small tins to make a couple of "crust-less tartlets". I sprinkled a dusting of raw sesame seeds over all three pie plates and added raisins and wheat germ to the smaller two (kind of giving them a bit of a crusty topping). I found I had to increase the baking time a lot more than was suggested (about an additional 30mins.); however, I'm sure that had to do with my temperamental oven and it's quality of heating!!! The main pie worked lovely as a delicious and filling entree and the mini tarts were great used in a warm spinach salad. Definitely a keeper of a recipe and one that could allow further experimentation as far as veggies and additives used (think of different quiche like applications; I'm dying to try shrooms) as well as other pie crust ideas!! Great filling fun - Thanks fluffernutter!!!
Saute the onions with a little salt in the butter in a large skillet over medium heat until tender.
Add the carrots and 1/2 teaspoon salt and cover the skillet.
Cook, stirring occasionally, until carrots are tender.
Uncover and stir in flour.
Preheat oven to 375.
Beat the cheese and egg in a bowl.
Stir in the carrot mixture, black pepper, and dill.
Spread the mixture in an 8-inch pie crust (the book recommends a nut crust -- I've posted the recipe as Crunchy Nut Pie Pastry).
Bake for 15 minutes, lower heat to 350 and bake for 30 minutes longer.
Let stand 5 minutes before cutting.