lazyme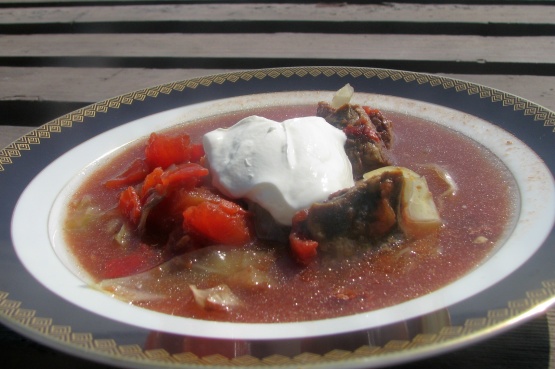 I found this recipe on the net doing a recipe request search.

I found this recipe all over the web, so it seems to be the standard. It's good in a basic way but the flavor needed a little enhancing. I tasted it towards the end and decided to add beef stock, more vinegar, more sugar, a little bit of tomato juice (V-8 actually) and a splash of beer I was drinking. That turned it in to a four-star recipe.
In a large soup pot cover the beef, tomatoes, onion, bay leaf and garlic with cold water.
Let stand for 1 hour and simmer covered for 3 hours.
Remove the bay leaf, add cabbage, sugar, onion, salt and pepper.
Simmer for 15 minutes more.
Remove from heat, add lemon juice and offer Sour Cream at the table.