cuban100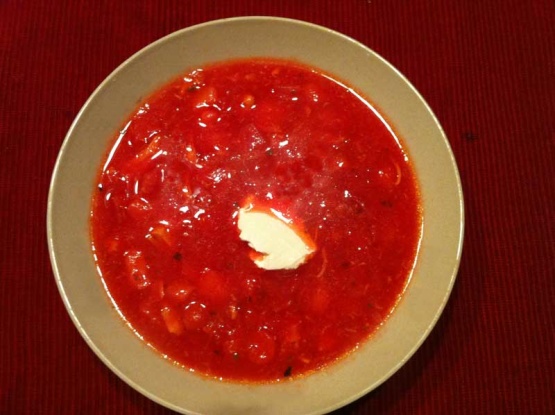 I have a friend in Russia, and she did me the honor of giving me a copy of a true Russian borsh recipe (I am guessing thou that each recipe might be a little different). This is so good! I hope you enjoy!

I love Borsch. My sons girlfriend is from Russia and she makes this for me all the time. I altered it a bit by using Leek Broth. What I did was cut the tops off of 3 large leeks and boiled them down and used the broth to boil the cabbage, carrots, potatos and onions with fresh thyme and cilantro. I barely needed salt and pepper to season. Great recipie but don't forget the sour cream
Cook meat for 2 hours in *water* or until meat is very tender -reserve liquid (*add water if needed along the way)
Get meat out of pot and shred-set aside.
Sauté onion, carrots in small skillet-set aside with meat.
Boil beets in meat broth/water until soft.
Take beets out and shred.
Cut up raw potatoes and raw cabbage.
Put all-(the sautéed mixture--beets, meat, raw ingredients)--together in broth/water.
Boil until potatoes are done (about 30 minutes).
Add spices according to taste.
SERVE WITH SOUR CREAM!