Kathy228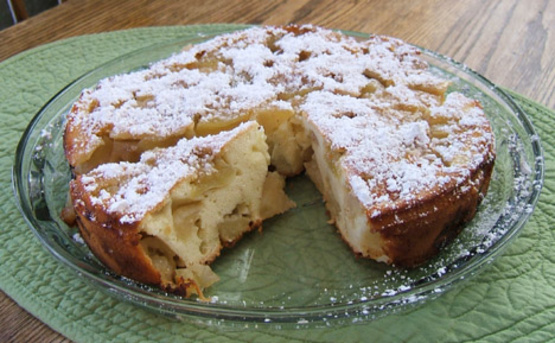 Cheap and VERY Easy to make, low on sugar but has a great taste

Top Review by krolek
My Russian boyfriend loves (!!!!) this--calls it Neighbor Charlotte--because you make it quickly for neighbors who drop in. I t's not a pie. Think uncomplicated, undersweet coffee cake--crunchy on outside, slightly doughy in the middle.It seems like people are overcomplicating this recipe. It is supposed to be peasanty simple. His mom's variation 1.5 cups sugar + 3 eggs, mix, 1.5 cups flour, mix just until combined. Pour in greased/floured pie pan. Peel/core 3 tart apples, cut into large chunks and press into batter. Bake@350 for 50 mins. If you add 1/2 c. milk, it is a Clafouty recipe (more custard-like than this recipe). If you arrange melon-balled apples neatly and then, after removing from oven, sprinkle with powdered sugar, it can come out a little more formal looking and good enough to take to a friend's house when you are invited over for casual supper.
Remove core from the apples, cut in large chunks 2",lay parchment paper on the bottom of your baking form ( I use 8 1/2 inch spring form).
Lay the apples on top of parchment paper.
Let eggs warm up for 10 minutes,then mix till light yellow and foamy; add sugar in, small portions at a time, let sugar dissolve; add flour; mix till you see air bubbles, pour mixture on the apples.
It will soak throughout, do not mix apples with batter.
Bake for 55 minutes on 375°F.
When pie is done flip upside down, Apples will be on the top.
Enjoy.