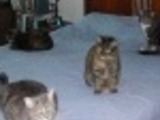 Cute name! Easy and very fast too. This is also known as a Rink Tum Ditty. This recipe is a bit different than the three Rink Tum Ditty recipes that were already posted - it doesn't include any eggs as an ingredient which is good as I'm not a fan of undercooked eggs. This was another recipe of the week in The Week magazine, originally from Charles Perry of the Los Angeles Times. A British comfort food, serve with ale on the side. I added an optional 2 tablespoons of dry sherry too:D
Directions
Put cheese, tomato soup, Worcestershire sauce, onion, pepper and sherry if using in skillet. Stir over medium heat until cheese is thoroughly melted.
Remove skillet from heat for 1-2 minutes until cheese mixture firms up slightly.
Ladle mixture onto slices of toast and broil until tops start to bubble, but don't let them brown. Garnish with chives. Serve hot.
Most Helpful
This food makes me happy. What more can I say?