Rumbledethumps - Celtic Potato, Cabbage & Cheese Gratin
Baby Kato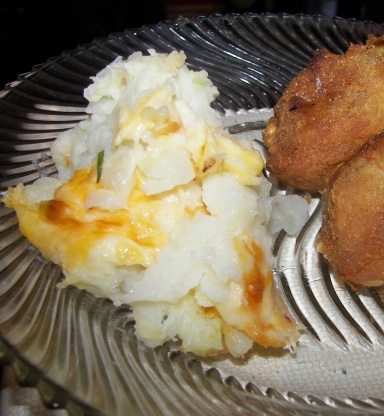 A wonderful combination of mashed potatoes, Savoy cabbage, cheese & chives - baked OR grilled to give a crispy cheesy topping. This is one of my very favourite family recipes - my Mum used to make it, as did her Mum before her! This is a Scottish recipe, similar to Irish Colcannon, which is also a potato & cabbage dish. You can serve this as a vegetable accompaniment or as a light luncheon dish with crusty bread & extra vegetables. P.S. My daughter calls this baked Bubble and Squeak & always asks for it when she comes home from university!

Perfect. I love cabbage, love potatoes and cheese. What is not to like. I had some Irish sausage, I know, not quite the same, however, I served the lightly pan sauteed sausage, lightly browned with the potato and cabbage casserole. I made this for for a friend and I ate with them and them loved it. Me too. It was excellent. I even used a traditional scottish cheddar from a small store up in Tampa FL, It was great. Plenty of chives. We were all very very happy campers at the end of the night. Thx again, as a total cabbage fan ... this will definitely be on my list. I highly admit the scottist cheddar if you can get it, it made great to excellent or excellent to fabulouso!! Thx, Kim
Preheat oven to 225C/450F - ONLY if you wish to bake this. Otherwise, this dish can be grilled.
Lightly grease a heat resistant serving or baking dish.
Boil the potatoes for about 20 minutes or until soft.
At the the same time, boil the savoy cabbage for 5 minutes maximum - take off the heat, drain & allow to cool in a colander.
Drain the potatoes and add the butter, milk, salt and pepper. Using a potato masher or hand held mixer - mix & mash the potatoes thoroughly until smooth & with no lumps.
Add the cabbage & chives to the mashed potatoes - gently mix together.
Pile the Rumbledethumps mixture into your serving or baking dish - scatter the grated cheddar cheese over the top and EITHER, bake for 15 - 20 minutes in the oven OR put under a hot grill for about 5 minutes, until the cheese has melted and is bubbling.
Serve immediately with grilled or roast meat, casseroles, stews or roast chicken.
This also makes a wonderful vegetarian meal or a light luncheon dish - serve with crusty bread and extra vegetables if you wish.
This serves 4 people as an accompaniment and 2 people as a light luncheon dish.