hedi777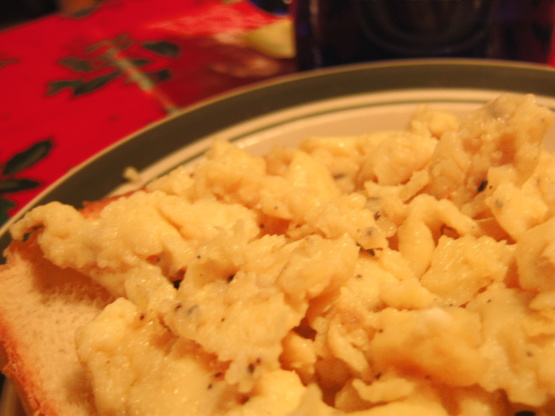 The beauty of rumbled eggs is that they cook practically on their own, and it's very hard to ruin them by overcooking.
I just had to try this recipe simply because it looked so odd! DH and I had for a late breakfast on a Sunday morning...FANTASTIC! Served on buttered toast and it was just awesome! Will definitely make again!
Put a saucepan of boiling water over a low heat.
Put the butter in a bowl and stand it in the saucepan to melt, while you beat together the eggs, salt, pepper and water.
When the butter is hot and clear, pour in the egg mixture and stir twice.
They can then be left over the gently simmering water while you set the table.
Give them an occasional stir as you pass by to prevent the eggs at the bottom from sticking.
As soon as the eggs are the consistency of clotted cream remove the saucepan from the heat and the eggs will keep hot over the hot water until they are needed.
Serve on buttered toast.