Rumble in the Jungle Mixed Fruit Crumble
katew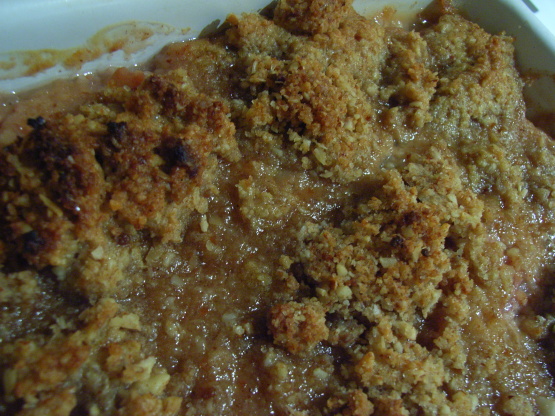 Posting this so I don't lose the recipe (again). This is an easy to toss together dessert using canned fruits. I'm sure fresh fruits would be fine in this as well, but you may need to increase the bake time and the amount of sugar. Adapted from www.mealtime.org.
Preheat oven to 375 deg. F.
Light.ly spray a 9" square baking dish with cooking spray. Put all the fruits in the prepared dish and mix gently with a rubber spatula.
In a small mixing bowl, combine the flour and sugars. Break up any sugar lumps with your fingers. Cut in the butter cubes with a pastry blender or two knives until the mixture forms fine crumbs. Mix in the coconut and nuts. Sprinkle this mixture evenly over the fruit.
Bake for approximately 40 minutes, or until topping is golden brown.
This can be served warm, or at room temperature.