Rumanian Mixed Vegetables
Annacia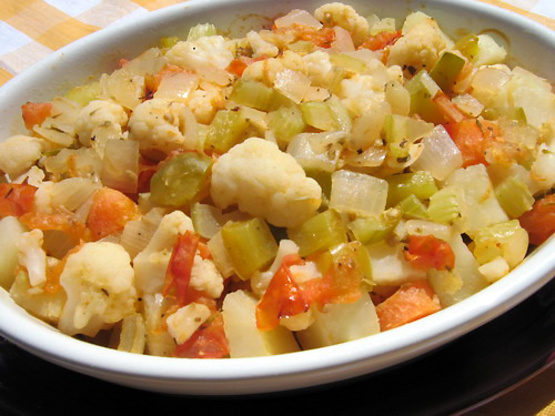 This is the national dish of Rumania, and it is traditionally cooked in a special casserole called a "guvens."

I loved this. I don't believe that I have had baked mixed veggies before that aren't weighted down with heavy soup, cream sauce or cheese. I was instantly taken with how light and fresh tasting this is. I didn't have any zucchini but everything else was "by the book" and I could happily make a meal out of just this and a slice of good bread. I made 2 servings and they aren't skimpy. Made for ZWT4.
Heat 1 inch water to boiling in 3-quart saucepan. Add potatoes, carrots and beans. Heat to boiling; reduce heat. Cover and simmer 10 minutes; drain. Cook and stir onions and garlic in oil in skillet over medium heat until almost tender. Add tomatoes, cauliflower florets, celery, salt, thyme, marjoram and pepper. Cover and cook 5 minutes.
Place potato mixture in greased 3-quart casserole. Spread half the tomato mixture over top. Layer zucchini and green pepper over tomato mixture. Top with remaining tomato mixture. Cover and bake at 350 degrees F until vegetables are tender, 50 to 60 minutes.