Rum Marinated Chicken With Tropical Salsa
Derf2440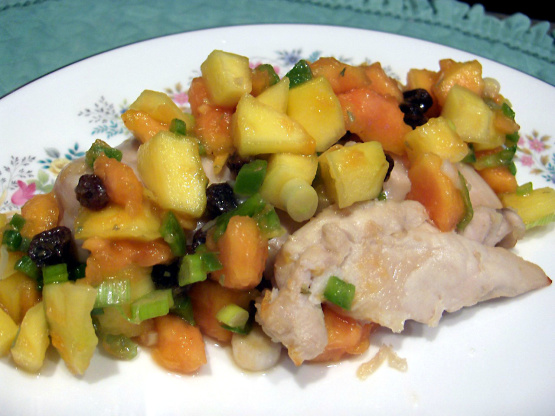 Grill or roast the chicken. Top the chicken with a cool, fruity salsa.

I made this recipe, along with two others from the RSC '06, for a 'Spring Break' theme night for my family. Everyone raved how fresh and tasty it was! My mom noted that the taste of the chicken could have stood alone but the salsa made it great. They were eating the left-over salsa the next day with tortilla chips. I didn't have tarragon vinegar so I just added tarragon to the marinade with apple cider vinegar. I made up the salsa the night before and let the chicken marinade over night as well so the flavors really had a chance to mingle. It's a great low-fat recipe!
Combine marinade ingredients in a glass or plastic container. Add raw chicken breasts.
Chill for at least 6-8 hours; turning halfway through marinating time.
To prepare salsa, combine all salsa ingredients in a bowl. Chill until needed, but try to serve the salsa at room temperature
After chicken has marinated, grill over hot coals until juices no longer pink, or roast in oven at 375 for about 20-30 or until juices run clear.
Serve topped with the fruit salsa.