katia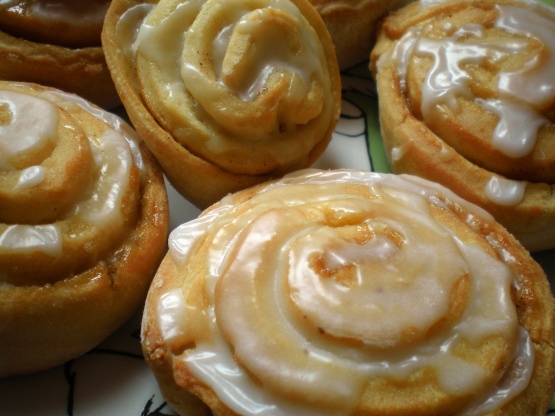 From Southern Living 1981 comes this recipe for sweet rum-flavored buns laced with raisins and cinnamon and topped with a sugary glaze. This yields 2 dozen buns and they freeze beautifully, but the recipe is easily halved.

Top Review by katia
Excellent Buns!!! At first I thought that it was difficult to make, but "I should give it a try"! Althought the dough didn't rise at first and I thought that I have made a disaster, the result were some Excellents buns. They rise later in the oven and what a smell while baking!!! I halfed the recipe and had 10 big buns and 2 smaller. After I made the dough I noticed that I didn't have any raisins and I made it without. Next time I'll adde some raisins and walnuts. It was the first time making buns but it wasn't the last. Thanks so much Dreamgoddess! Made it for ZWT3.
For the Buns: dissolve the yeast in warm water and set aside for 10-15 minutes to proof.
In a large bowl, combine the scalded milk, softened butter, sugar, eggs, salt and rum flavoring.
Beat until well blended and add the yeast mixture.
Add the flour; beat until well mixed and the dough leaves the sides of the bowl.
Turn out on a floured surface and knead about 5 minutes, or until the dough is smooth and elastic.
Grease a large bowl and place the dough in it; turn to grease the top.
Cover and let rise in a warm place until doubled (about 1 1/2 hours).
Punch the dough down and divide in half.
Roll each dough half out on a floured surface to a 13x8" rectangle.
Brush with melted butter.
Combine the brown sugar, raisins and cinnamon and sprinkle over the dough rectangles.
Roll each rectangle from one of the long sides jellyroll style and seal the edges.
Slice in 1 1/2" slices and place 1" apart in a greased 13x9" pan and a greased 8" square pan.
Cover and let rise again for about 30 minutes, or until doubled again.
Bake at 400 degrees for 15-20 minutes or until golden; remove from pans and cool on racks.
While still warm, drizzle the glaze over the buns.
For the Glaze: Combine the powdered sugar, milk and rum flavoring; blend well.
Drizzle over buns.