My sister-in-law shared this recipe with me. She makes them for special occasions. Use good quality rum.
Directions
Crush vanilla wafers to a fine crumb.
In a large bowl combine wafer crumbs, honey, rum, and nuts.
Stir to form a stiff sticky dough.
Shape into 1 inch balls and roll in powdered sugar.
Store in an air-tight container.
Most Helpful
Give your sister-in-law a big KISS!!! These are wonderful!!! We prefer Pecans over Walnuts, so that's what I used. I also try to avoid using corn syrup (YUK) as much as possible & I had plenty of honey, so that worked out just fine. I added 2 T. HERSHEY's UNsweetened Cocao to the powdered sugar (1 c.) YUMMY!!! THANKS for sharing!!!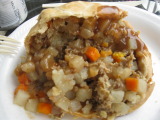 Yummy! With honey and walnuts you can almost fool yourself that these are healthy- at least they are a healthier version of a holiday treat!
These are always popular with my family and friends. I measure one pound of walnuts but otherwise use all other measurements as written. I love that they are simple and don't contain corn syrup, which is flavorless. The honey adds a nice mellowness to the flavor. I use Bacardi rum but I bet a good vanilla rum would be tasty as well.