Brenda.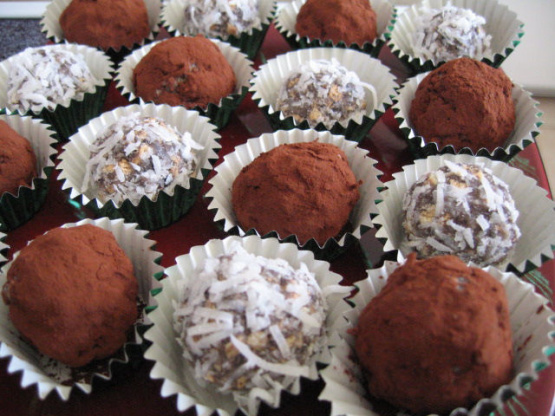 Rum Balls for Christmas. Use Bundaberg Rum and put a little extra in for Santa

Awesome! I used the finely grated coconut with great results. We made a double batch and the whole family joined in to roll the mix into small balls. Will try and keep just for company but I can predict that they will go quickly.
250

g plain sweet biscuits, crushed

395

g condensed milk

1

cup desiccated coconut

2

tablespoons cocoa

2

tablespoons rum
1⁄2 cup desiccated coconut, for decoration
1. Mix first five ingredients together until combined well.
2. Roll into small balls, truffle size, using wet hands and roll in the reserved coconut.
3. Refrigerate at least 20 minutes before serving.
4. yum.