Marlitt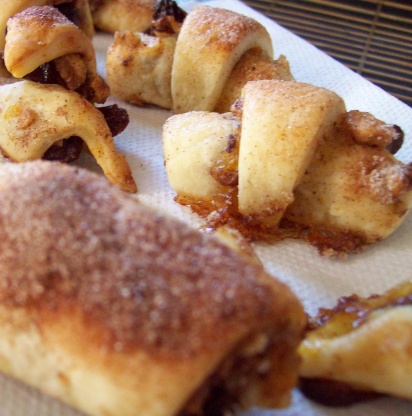 Another East European recipe from the internet that was reworked slightly, to be included when I participate in the 4th Zaar World Tour! Preparation time does not include time for dough to chill!

great dough and easy to work with, I felt that mabey it needed a teaspoon of sugar in the dough for a little extra zip, I used salted butter as that is all I had at the time, I refrigerated the dough overnight and allowed it to sit out on the counter for 30 minutes before rolling out, thanks for sharing Syd!
Mix cream cheese, flour & butter, then divide into 4 balls & wrap inaluminum foil ~ Refrigerate at least 6 hours.
When ready to work the dough, preheat oven to 375 degrees F (or 190 degrees C) & lightly grease & flour a cookie sheet (or enough to bake 24 rugelach).
Roll out each ball to 1/4" (or 6mm) thickness & about 10" (25 cm) in diameter or more.
Cut each circle into 10-12 wedges, then spread wedges thinly with jam.
Mix together cinnamon, sugar, raisins & walnuts, then spread this mixture over the jam on each wedge.
Mix together 1 tablespoon each of sugar & cinnamon & set aside.
Roll each wedge gently, starting at the wide part & ending at the point.
Place each rolled wedge on prepared cookie sheet(s), & sprinkle LIGHTLY with sugar/cinnamon mix.
Bake 30 minutes or untl golden brown, then cool before serving.