Irmgard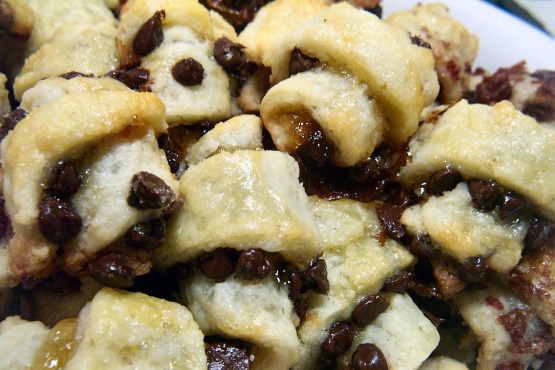 This is a version of rugalach that I found years ago in Chatelaine magazine. I find that if you follow the directions exactly, the dough turns out perfect every time.

Top Review by Gerry
Long overdue review here! Misplaced my copy, pleased to find you had it posted. When sifting I use a large fine strainer to make short work of sifting both the flour and the icing sugar. This combination of ingredients gives me perfect dough every time just as I expect from a Chatelaine recipe! Love the filling and use the optional glaze which really makes for presentation Hope the previous poster gives this one another try ... Icing sugar can be less than smooth - if sifted I can only think perhaps some brands of cream cheese may not be as creamy making for difficulties with the dough. Thank you Irmgard, happy you shared - thought I'd never see this this one again!
In a medium-size bowl, blend the flour, icing sugar and salt, using a fork.
Cut the butter and cream cheese into 1-inch cubes.
With a pastry blender, cut the butter and cream cheese into the flour mixture until the dough is the consistency of small peas.
Then, work the dough with your hands until it has a coarse meal texture.
Press the dough into a ball.
If the dough is too soft to roll, wrap and refrigerate for at least an hour.
Preheat the oven to 350 degrees F.
Using a fork, stir the sugar and cinnamon together.
Divide the dough into four pieces.
On a lightly floured board, using a floured rolling pin, roll 1 piece into a 12-inch circle, approximately 1/8-inch thick.
Sprinkle half of the sugar mixture over the circle, then sprinkle with 1/4 cup each of the nuts and raisins.
Alternatively, you can spread half of the jam over the circle and sprinkle with 1/4 cup nuts.
Repeat with the 3 remaining pieces of dough.
Cut each circle into 16 wedges.
Roll up the wedges, starting at the wide end.
Place the wedges on an ungreased cookie sheet, point-side down.
If using a glaze, whisk the egg and lightly brush the top of each cookie.
If you wish, lightly sprinkle the cookies with sugar.
Bake in the centre of the preheated oven until golden, about 13 to 15 minutes.
Remove to a rack until the cookies have cooled.
Store in the refrigerator or freeze.